In the first eight years after the church was opened, St. Margaret's had as many as six different priests in charge before settling down to a period of stability under Father McNab.
Airdrie's first priest-in-charge, Father Daniel Gallagher, was typical of the people he was to serve. Born in Derry in 1811 and educated at St. Columba's College, he came to Scotland in 1825 to join his parents who had already settled there. Bishop Scott of the Western Province hired him to teach in the immigrant schools that offered a basic education to the children of the poor labourers. He was asked by a young Blantyre mill worker to give tuition in Latin so that the young man could gain entry to Anderson College to study for the Presbyterian ministry, and he readily agreed. Thus began the remarkable friendship between the founding priest of the first Catholic church in Airdrie and Scotland's most famous missionary — David Livingstone.

When Abbe Paul Macpherson was sent to Rome to save the Scots College from closure in 1834, Bishop Scott insisted that Mr Gallagher accompany him. Three years later the young Derryman was ordained. For two years after his return to Glasgow, Father Gallagher served in St. Andrew's, before being given responsibility for founding the Mission at Airdrie — St Margaret's. He found that his parishioners were very poor and employed in the lowest paid jobs: 54% were labourers and 31% worked in coalmines. His Mission covered most of Lanarkshire and his flock was widely scattered, requiring him to travel great distances on foot. He had to make frequent journeys to bring the Sacraments to the injured and dying, as accidents were a common feature of life at the time. Dr. Mulvey, in his brief historical notes, compiled in 1923, noted that Father Gallagher had covered an area that required 20 priests in 1900. Not surprisingly, his health broke and he was obliged to leave Airdrie in 1841. Despite his poor health, and periods at Rome and Ratisbon for convalescence, Father Gallagher founded a further two parishes, St. Joseph's, Glasgow, and St. Peter's, Partick, before his death in 1884.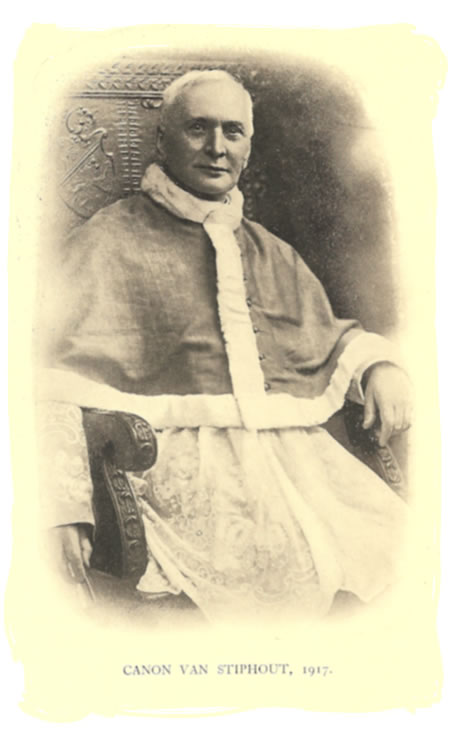 During Father Gallagher's time at Airdrie, St. Margaret's had grown considerably, there being a population of 2,093 in the town, and a further 2,907 in the surrounding area. Not all of the increase was due to immigrants settling in the labour-hungry county, but there seems to have been a very high birth-rate among the Irish who were already there: there were 216 Baptisms in 1840 and 312 in 1841. The needs of the young were of importance to Father Gallagher and, appropriately for a man who had once been a teacher, he decided to make provision for their education. The rooms in Market Street, where Mass had previously been said on Sundays, was retained and converted into a proper school, with Mr. Delargy in charge at first, and later Mr. McAuley. Just before leaving the town, Father Gallagher received special recognition by being summoned to give evidence to the Royal Commission on Mining — although the Report refers to him as "Father Callaghan, the Catholic priest at Airdrie". His evidence gives a clear picture of the appalling conditions in both the mines and the houses in which his parishioners brought up their children: it gives also a picture of a very observant and socially-conscious man who understood and sympathised with the people he served. Through this Report, he contributed to the legislation that later removed the worst of the social and health hazards that faced the working poor.
In the eighteen months following Father Gallagher's departure, three priests took charge of St. Margaret's — Father Scott, Father John O'Ryan and Father Gerald T. O'Byrne — it is possible that they were in fact sent out from Glasgow to look after the needs of the parish until a successor was appointed. Father John McDermott was appointed as the first assistant priest in 1842, and served for one year before moving on.
Father Alexander Smith arrived to take charge of the Mission in September 1842. He found that the Catholic population was growing rapidly and decided that new missions should be established to enable all to hear Mass locally, and chapels were founded at Langloan, Coatbridge and "Davy's Dyke" (between Newmains and Shotts). So successful was this move, that by 1845 Coatbridge was established as an independent mission, dedicated to the Patron Saint of Ireland, St. Patrick, and Father William Walsh was placed in charge there. In spite of the new parishes, St. Margaret's still was overcrowded and Father Smith had a gallery built at a cost of £150 to cope with the numbers coming to Mass. By 1845, the number of Catholics in Lanarkshire had risen to around 5,000. The old school having become overcrowded, Father Smith bought a plot of land at Rawyards, for £60, and built a new school. He gave encouragement to the schoolmaster, James McAuley to provide the best education that was possible in the circumstances, and was not let down; Mr McAuley made use of the Protestant translation of the Bible to instruct his pupils so that they would not be unfamiliar with the version used by their fellow townsfolk; in addition to that the Three R's, he provided classes in navigation and surveying.
Father Smith was aware of the dangers of drunkenness, and was concerned that the saloons might lead men away from the Faith. He set up the CYMS in St. Margaret's to provide an opportunity for young men to socialise away from the bars.
News of the potato famine in Ireland greatly moved the people of St. Margaret's and, when their priest organised a special collection for relief work, they raised the sum of £28 5s 8d — a considerable amount for families who were themselves very poor. The Great Famine, however, had another effect, it encouraged more people to leave Ireland. Many came to Scotland, most hoping to later take ship to America, but finding their way to the areas where work was to be found. Airdrie attracted some of this new wave of immigrants and the population of St. Margaret's increased still further. In 1847, the parish had 386 Baptisms, and the place of origin of the parents, as recorded in the parish register, is invariably Ireland. Father Smith was, however, not destined to stay long in Airdrie. His efforts had been noticed by his superiors, and on 3rd October, he was appointed Co-Adjutor of the Western District with the title, Bishop of Parium. In November, the priest-in-charge of the Mission at Airdrie left to take charge of what was to later become the Archdiocese of Glasgow.
From November 1847 to April 1848, Father John Gray was in charge of St. Margaret's, with the newly arrived Father Jeremiah Buckley as his assistant. Father Gray left for the United States to raise money for the Western District and after some time there, returned to Glasgow and in 1865 became Bishop of Ipsus and CoAdjutor of the Western District in succession to Bishop Smith. Father Buckley had scarcely arrived in Airdrie when there was an outbreak of cholera in the town and his first weeks were spent in ministering to the sick and the dying. His devotion was not easily forgotten, and when he left Airdrie in 1852, he was presented with a watch and a purse of sovereigns by the grateful parishioners.
Father Duncan McNab
Father McNab arrived in Airdrie in 1848, and for the next nineteen years was the priest-in- charge of St. Margaret's. Described as a "somewhat dour Highlander", he seems to have made little effort to ingratiate himself with his congregation, although it is admitted that he worked with enormous energy on their behalf. Cholera was raging in the town when he came, and with Father Buckley, much of his time was taken up with doing the rounds of the homes of the victims. Jeremiah Buckley was the only curate of the ten who served the parish in those nineteen years to stay for any length of time. He was noted for his appeals for funds to allow the purchase of a bell to be placed in the steeple which was added to the church by Father McNab, who acknowledged his efforts by referring to the bell, which was specially cast in Dublin, as "Buckley's Bell". The "Airdrie Advertiser" reported, however, that the bell had to be modified as its ringing broke the glass in the windows of "the douse weavers of the Ha'craig". Father McNab wanted to build a Catholic cemetery beside the church, and for this purpose, bought a plot of land at Flowerhill. Local residents objected, however, and took him to court. After a long and expensive lawsuit he was forced to abandon his scheme. A convert, Lt. Col. Gerard, came to his aid and leased a large plot of land on his Rochsoles estate to Father McNab for use as a cemetery: at a rent of 10 shillings a year. It was typical of the Church in Scotland at that time that the support of wealthy converts was needed for finance and to gain respectability, and Airdrie was fortunate to have the Gerard family, whose fortune had been made in the West Indies and who were happy to use some of their wealth to provide for their fellow-Catholics. The town was, on the other hand, unique in having the only Catholic cemetery between Glasgow and Edinburgh.
Father McNab was not only the sort of man to waste valuable resources, and he had a tenement of eight houses with garrets erected on the site at Flowerhill to provide accommodation for the poor of the parish, the rents going to the church funds. He also built a school to take 290 girls, and so successful was this that an extra classroom had to be added in 1857 to give places for a further 60 pupils. There was a steady influx of Irish into the area, and the number of Baptisms in the 1850s was over 300 a year, and did not fall below this figure until 1859, when it dropped to 230. In 1856, he purchased half-an-acre of land from the Lauchope estate at Chapelhall, where he had a chapel, presbytery and school built to provide for the many Catholics in the area. The mission was served from St. Margaret's, by Father McNab and his curates, until 1859, when it became the independent Mission of St. Aloysius with Father James Mime in charge.
Coal had caused the area round the town to grow, but it was to create many problems for St. Margaret's. During the 1850's, a local coalmine encroached onto the church lands and the underground workings resulted in damage to the church building. Father McNab took the Summerlee Coal Company to court seeking compensation for this damage. The case dragged on for many years, and it was almost a decade before the company was finally ordered to pay damages. By this time, however, the cost of the litigation was so great that 75% of the award went to meet the legal fees, Father McNab being content that he had safeguarded the fabric of his church. The interior of the church was largely the work of Father McNab who not only repaired the damage due to the mine workings, but added to the furnishings himself. He had a large workshop behind the church where he stored local wood to season before he used it for his hobby of joinery. It is claimed that he built the confessionals in the church, and it was recently estimated that the present ones date from the 1860s, i.e. about the time that this rather austere priest was at St. Margaret's. Although he was assisted by a succession of priests, Duncan McNab was obliged to undertake most of the duties himself as none stayed for any length of time as they were needed to serve elsewhere. He seems to have had little regard for his own safety, and there is a record of him being summoned to Rawyards to bring the Sacraments to a dying man, only to discover that the call was a trick. He took a different route back to Halicraig Street and saw a group of men who had been lying in wait for him. Religious bitterness had not disappeared and the church and its priest were targets for the anger of militants, especially after the 12th of July celebrations. This redoubtable character refused to let threats deter him, and is referred to in the press as "the hard priest at Airdrie". He dealt with repeated rumours that the Orangemen were preparing to attack his church and raze it to the ground, by letting it be known that he kept gunpowder in the house and would blow the church up rather than have it desecrated. It appears that this was no idle threat either, as Father Van Stiphout records that he found a small keg of gunpowder in a press in the house when he came there in 1893. Despite his hard work, Father McNab was not liked by his flock. He was very stern and frowned upon anything he regarded as frivolous. It is claimed that he disapproved of dancing, and that on the only occasion that he gave permission for a dance to be held in the hall, he not only sat up on the platform glaring at the dancers, but also insisted that men and women danced on opposite sides of a rope he had that ran the length of the hail. Matters came to a head after he published a pamphlet to prove that St. Patrick was born in Scotland, and followed this with a lecture at Bathgate that was seen as being anti-Irish. Certainly rivalry between Scots and Irish Catholics was common at the time, among the clergy as well as the laity, and Father McNab was undoubtedly one of its victims.
In August 1867, Father Duncan McNab left Airdrie and went to Australia to engage in missionary work. For another 46 years, he toiled for his new flock and won the admiration of all. In 1916, Senator Hugh De Largy, a nephew of the first schoolmaster in Airdrie, visited Canon Van Stiphout, and sang the praises of this Highland priest who had done so much to establish the Faith in Australia. The Archdiocese of Glasgow received a request for information about him in 1964, to be added to a history of the Catholic Church in Australia. For a few months in 1867, Father Thomas Donneily, the last curate to serve with Father McNab, took charge of the parish until a successor was appointed. When the new priest arrived, Father Donnelly set out for the West Indies to take up his appointment as Chaplain on the Gerard Estates.